The real reason Google is pushing Chrome so hard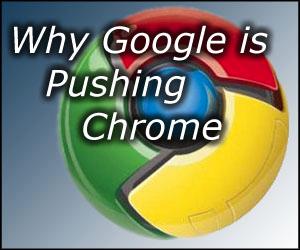 Google is once again pushing their Chrome and Chrome OS products hard again, so it's only fitting that I now get to add this video to the website. People see Chrome as a killer of Microsoft and Apple in the OS market. The thing that people don't understand however is that Chrome OS is just a web browser and that the Chrome browser exists for only one reason... and that is to get you to browse more web and use more Google products.
How Google makes their money is through advertising, every web page with a Google ad on it is a chance that you might click on one of those ads and make some money for them. If they can get you to browse more of the web with that content on it, then you are more likely to see those ads. Further, by encouraging you to use their browser they are trying to gain your trust and respect, and hopefully get you to use their other products such as Gmail, Google Maps, and YouTube.
Last Updated: 05/20/2011 08:20 PM