Using the Ultimate Boot CD to recover files from a damaged system.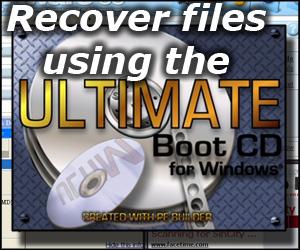 If your system no longer starts windows, you can still recover your files before you reload the system. All you need is an Ultimate boot CD, and an external hard drive.
What you need to do this is a couple of things
An external hard drive to store your recovered files onto
With these two items you can start up your system and copy your files safely to your external drive for safe keeping, or to copy back onto a new computer, etc. The first thing you will want to do is set your system to boot from a CD (Check the first video below). Then you can place your Ultimate boot CD in the system and start from there.
I recommend having the external hard drive connected before starting the system so that you don't have to worry about the drive detection stuff. However for the sake of the drive not showing up I demonstrate in the video how to make the external drive show up, by forcing a USB hardware detection and install.
How to set your system to boot from a CD:
How to recover your files using the Ultimate boot CD:
Last Updated: 12/09/2009 05:40 AM